PDF Annotator a remporté au Microsoft Tablet PC Contest

Pour le commentaire de fichiers sur Tablet PC, PDF Annotator a remporté le Microsoft Tablet PC Contest "Does Your Application Think in Ink?" face à onze applications concurrentes.

Après une première phase éliminatoire, les rescapés des 260 applications engagées dans la compétition, dont GRAHL software design avec le produit PDF Annotator, présentèrent leurs applications face à un jury de renom composé de journalistes spécialisés et d'analystes techniques dans les locaux de Ziff Davis Media à San Francisco, CA.

Le jury a décerné à deux produits les premier (ArtRage, Ambient Design) et deuxième (GoBinder, Agilix) prix ; il a ensuite attribué des prix à dix autres finalistes du concours, doté de 165.000 $ de prix.

Voir aussi :
Plus des distinctions (Anglais) ...
PDF Annotator wins Epsilon Award 2011

GRAHL software design's PDF Annotator was named the winner of the 2011 Epsilon Award at the 11th annual European Software Conference. Each year, The Epsilon Award recognizes the best software application from the European software and microISV community.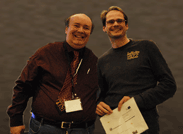 Oliver Grahl of GRAHL software design states: "We are proud of PDF Annotator's success in the face of strong competition from all over Europe. We see ourselves in a strengthened position from having made available a truly innovative piece of software that fills a real gap in today's marketplace."

The prize has been presented by David Boventer, ESWC e.V., on November 20, 2011, as part of the 11th European Software Conference in London.

See also:
PDF Annotator nominated for SIA Awards 2008

PDF Annotator has been nominated for the Shareware Industry Awards 2008, which will be announced at the Software Industry Conference in Boston, MA in July. The nomination is in the Best Vertical Market Program category. Last year's award in this category went to VMware Workstation by VMware Inc. Other last year's winners were PaintShop Pro by Corel Corporation, Microsoft Office 2007 by Microsoft Corporation, Google Earth by Google Inc., Skype by Skype Limited and Mozilla Firefox by Mozilla Foundation.

See also:
PDF Annotator awarded Second Place at the 2007 Epsilon Awards

At the annual presentation of the Epsilon Awards this year, GRAHL Software Design's PDF Annotator was awarded second place.

The European Software Conference (ESWC) has been presenting the Epsilon Awards since 2006. These are presented to software developers who have created a standalone application for the Windows, MacOS, or Linux platforms and who have made it through a qualifying round to distinguish themselves from the competition in open voting. Last year's winner was the British company Alcohol Soft's program Alcohol 120%.

The winner of this year's competition was xplorer2. Runner-up was Germany's PDF Annotator, and third place was awarded to the well-known compression tool WinRAR.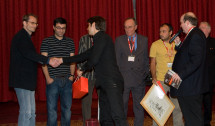 The award was presented by Hubert Gey, chairman of the Economic Committee of the City of Cologne, in the name of the Lord Mayor of Cologne, Fritz Schramma, and under the auspices of the European Software Conference in Cologne at November 4, 2007.

See also:
Picture courtesy of
Jan Goyvaerts
PDF Annotator wins at Microsoft Tablet PC Contest

PDF Annotator for annotating PDF files on the Tablet PC, wins at the Microsoft "Does Your Application Think in Ink?" Tablet PC Contest together with eleven other programs.

After a pre-judging out of 260 participating applications, the finalists, including GRAHL software design with their PDF Annotator product, presented their applications to a well-known judge of computer journalists and analysts, hosted at Ziff Davis Media in San Francisco, CA.

The judge awarded two products with the first (ArtRage, Ambient Design) and second (GoBinder, Agilix) prize and then awarded prizes to ten more finalists of the contest totaling $165,000.

See also: