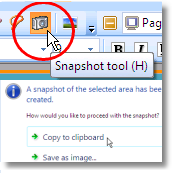 In this article we want to have a closer look at the new Snapshot tool introduced in PDF Annotator 2.
This has always been one of our users' most requested features. Whenever some part of a document - a paragraph, an image, or a combination of both - requires comprehensive annotation, you might want to make a copy of that part and paste it to a blank page, being able to add mark-up and comments around that fragment. The new Snapshot tool gives you that opportunity - and more.

So how does it work?

You'll find the Snapshot tool next to the other tools on the toolbar.

After activating the snapshot tool, your cursor will become a cross line, so you can start selecting a rectangular area from your current page while keeping your left mouse button pressed.

Now, release the mouse cursor and a message box will appear, asking you how to proceed with the snapshot taken. You're given the alternatives to copy the snapshot to the clipboard, or save the snapshot to an image file. By selecting the second option, you'll be queried a file name and image format to save the snapshot to. Save as Image offers all important image formats, like PNG, JPG, GIF, BMP and many more, to save your snapshot. Some image formats even allow additional settings to be set through the Extended button on the Save as Image dialog. By selecting the first option, your snapshot will be copied to the clipboard as an image, and you'll be able to paste it into any other application, as well as into PDF Annotator.

For example, you can now scroll to a free region in your document, or insert an additional page (Edit, Page, Insert Page), and paste the graphic from your snapshot there. Now you've got enough space to add annotations of any kind:
And here's our goody for this issue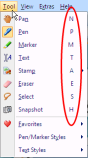 Did you know that you can quickly change the active tool using a single keystroke? The new Snapshot tool, for example, is available through the H key. You'll find the other tools' shortcuts on the Tool menu (see image). Also, the first twelve tools on your Favourites are available through shortcuts CRTL-F1 to F12. This can be very handy once you get used to the shortcuts. More can be found in the Keyboard Shortcuts topic in the PDF Annotator manual.